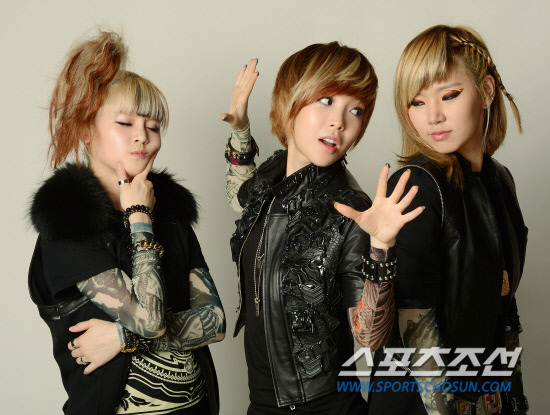 D-unit - Ujin is the main member in "Luv me" (picture source by sportschosun)
Hey, this is Johnny.
Today I translated an article about K-pop idol D-unit. It's mainly about
how Ram became a singer, D-unit's member rotating system and D-unit's goal.
Here we need to pay attention to the second one,
'member rotating system.'
Even though D-unit's Ujin became the regular member this time, it seems like "Luv me" album would be the last as the lineup of current members. As you D-unit fans already know, D-unit has a special member changing system where there's changes in the number of members according to the concept of the album. D-Business, D-unit's company made sure that
the current formation(Ram, Ujin, Zin) is over this time,
and next time they come back, they would add or drop the members. It can be four members, duet or even solo, the formation is infinite.
So read below.
- - - - -
Trio hiphop girl group D-unit came back with "Luv me." Taking control of the stage with powerful performance and charisma in spite of having small bodies, D-unit revealed the confidence saying, "We are stronger this time. people will be able to exactly feel our color."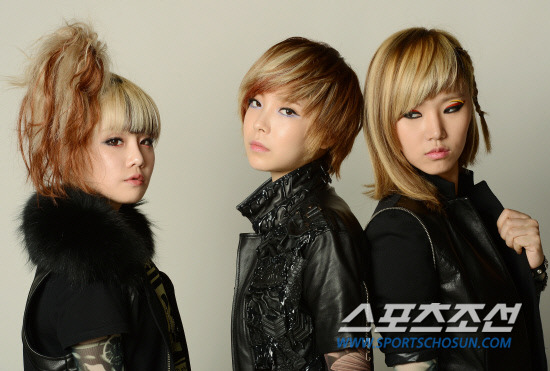 ▶ Ram "Being in an entertainer family, I didn't have interest in the entertainment field."
Member Ram brought a spotlight even before the debut as a younger sister of Boram from T-Ara, and a daughter of Jeon Youngrok and Lee Miyoung. Seeing parents and Boram going through hard times due to such as lots of rumors right next to them, Ram could have felt a negative view about the entertainment business. Ram confessed that she didn't have interest toward the entertainment field at first. She said, "I wondered why people keep on being there even hearing such bad things. Ram's parents's principle was do what you want to do. After realizing that my talent is in the entertainment field, my parents said that they had expected that I would debut earlier than Boram. But Ram explained that she liked to do band music freely like in HongDae areas rather than appearing on TV.
Even thought Ram is a free soul, as reaching in her mid-20s, she couldn't overlook practical problems. It was difficult to make money with indie music. Ram smiled saying, "I promised mom not to have her worry about me anymore. I'm not an ordinary style, and I've been dancing and singing since I was young, so I didn't have any aversion. Rather than regretting that I debuted, I just want to be successful as soon as possible, but yet at the same time I miss those things where I freely do what I want to do and write songs. It's like nostalgia."
D-unit - alarmed mode
▶ Survival system even after debut, "Frankly it's a burden."
D-unit's member lineup is quite changeable. Ujin got changed as a main member this time, whereas Ram was the main member last time. "We can change the main member according to the concept of the album." they explained. But what is more noticeable is
the team system where a new member can join the team anytime but at the same time, the current members can also drop out of the team.
Ram said, "It can be a duet or a solo. The team formation is infinite. The intention was to encourage the development competing each other. Our president always says, "You guys have to do your best if you don't want to be
't
he has-been member'
of D-unit." We are concerned about this, and when thinking about it, it's somehow bitter.
Ujin
confessed,
"I hope the original members are fixed because being a team means going together.
Many foreign fans
also say that they hope D-unit remains as the current members. However We are concerned because the president said that 'this would be the last as trio.'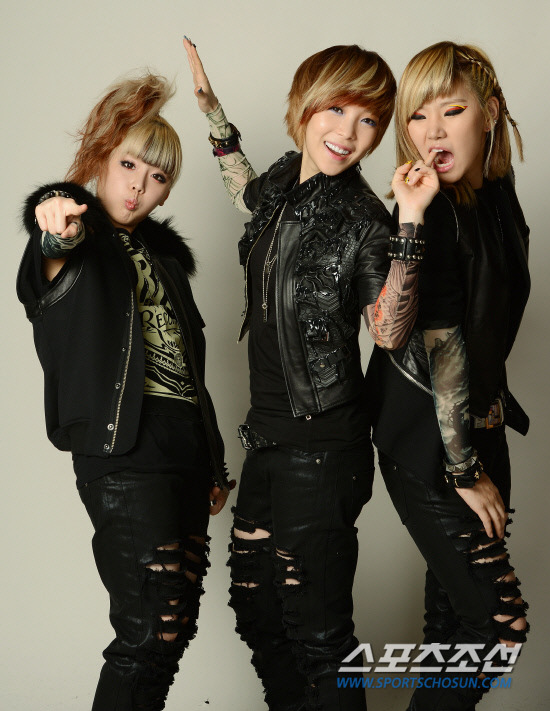 D-unit - Can't we really see this combination of three anymore?!
▶ We'll be one of a kind
D-unit released "Luv me" on 7th. "Luv me" is a mixing genre of hiphop and rock, co-made by Rain's producer C-Luv and a producer DM who is the former member of YMGA from YG. With the strong beat, this song describes an imposing woman saying 'You will love me.' D-unit brought up an unique concept again to express a strong figure of woman. They brought a powerful choreography which even caused the inflammation in the neck and the ligament. they also added charisma with some details of accessories. Especially the tattoo wristlet(Sleeve Cover) is not easily seen in other K-pop girl groups.
"Because we are a hiphop based group, so we do boy dances and the moves are all big. We think this is the point where we are different from other girl groups. Three of us all like hiphop, and also we are all easygoing, so this concept is fit well." D-unit said.
D-unit's goal is becoming an exclusive group. Zin said, "We want to be a group that has a color, like when D-unit is mentioned, a certain image comes up. We want to be an exclusive group where juniors are not ashamed to be called the second D-unit.
- - - -
Yeah...up to there....
It's quite bitter huh..?!
So we can't help but see
the changed D-unit.
I really hope the original members remain unchanged!
Like Ujin said, what does being a group mean?! Going together! they have this bond already, and their personalities are really fit each other. Yeah they are very cohesive enough!!

So...Guys...Do we have to accept it?!
If We keep on asking DM(The CEO and producer of D-unit) not to change members, does he accept our request like Ujin's case?!!! DM Please don't do that man!!