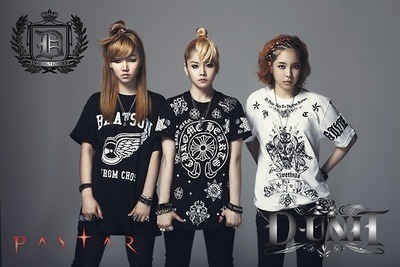 K-pop girl group - D-unit
Heollo, this is Johnny, today I translated D-unit's korean interiview.
I think It was filmed around late August. Enjoy!




Q. How did the D-unit get formed? (00:50)



Ram : I've been a trainee for 2 years in the current company, and at a total I went through 5~6 years of training. The current president saw me when I was practicing in another company, and remembered me. Later on after he established this company, he contacted me and cast me in person. So that's how I got in the team.

Zin : In my case, at the night when Ram auditioned for it, I came here for the audition. So I got the audition on the day, and I had practiced for about 2years as Ram did. I remember having hard times because I took up the dance lessons for the first time after I joined the team.
Originally, I wanted to be a vocal trainer, rather than a singer, but somehow I thought vocal trainers don't have sort of a sticked road, so I thought like "how about being a singer then?" So I decided to be a singer.

Ujin : For me, being a singer was my dream since the elementary school days. I firmly made up my mind to be a singer when I first saw "BOA." So I started off as a trainee and had practiced for about two and a half years. And then I got to be in this company and practiced as a member of D-unit for 18 months. Yeah, I'm the last to join D-unit.


Q : Was "I'm missing you" originally Bigbang's song? (02:47)

Zin : Yeah, our title "I'm missing you" was made by YG producer 'Kush.' According to him, Formerly, Bigbang was about to get this song. So we thought a lot about how we could show this song's feeling well like Bigbang did well. Yeah, We got a hard time making it.

Q : the introduction of title "I'm missing you"? (03:13)
Zin : Kush composed it as a trendy hiphop feeling. It has so sad lyrics, but we show very powerful performance on stage. (Looking at Ram) Can we...show some of it? and we have this dance that we're pushing these days called "Africa-hanging-out-the-wash-dance(아프리카 빨래널기 춤)" Shortly, "A-BBal-Chum(아빨춤)"
(Showing the dance) HAHAHAHAHAHA





Q : D-unit's distinctive feature? (04:17)


Zin : We think we have our own twisting charms. Apparently, we look strong with this makeup but when we remove our makeup, we sometimes look cute. Our surface is cute, but on stage we are very powerful and charismatic. We have this twisting charm.
And all of our members have blood type B, so we are all easygoing and tomboyish.



Q : Who do you think is rival out of other girl groups? (04:45)


We don't think we've seen girl groups similar to our style. From time to time, we see girl groups in casual shoes(sneakers), not in heels... how can I say..hmm we have a lot of footworks on stage, motions are very big and constantly moving. We think this kind of manly(tomboyish) groups are only us. Also that's what we heard. So, we don't think we have a rival.

Q : What do you think about people's comparison with 2NE1? (05:15)
Ram : Many of our staff are from YG entertainment, so that's why we've heard this kind of comparison often. In that sense, even if we don't like it, inevitably we are not free from hearing it. HOWEVER, we are surely different. Those who have seen our stage would know what I'm saying. In terms of songs, you might feel the similarity, but performance-wise, we think, two groups are very contrasting.

Q. Would you like to launch an acting career? (06:15)
Ram : As for Ujin, her looks is beautiful, and also she's been showing the desire for acting in her own tongue. MAYBE, in our team, Ujin will start it first and then the rest of us will try to follow it little by little. And we would like to work not only in acting, but also work in various fields, not to mention variety shows.

(6:50)
---- Zin's talent show. Imitating Hyun Sook's (현숙)(Korean teuroteu singer) voice. ------
Ram : Here, our youngest have something to show you guys, which she does everywhere. Ah..It's a bit difficult to look at....today, in order to show it to viewers out there...We've prepared it!

Zin : Yeah..I'm taking the microphone, I'll explain it first. What I'm going to do is 'following my friend's imitation of Hyun Sook.' HAHAHA

(to Ram)Could you...cover my eyes?? HAHAHAHAHA cause I'm a bit Shy... HAHAHAHA
-Imitation - Woo~~~!! Yeah!!

Ram : Wow, It's was like we were really seeing Hyun Sook! like a doppelganger!



Q : Aim? (08:05)


Zin : What we want to hear is, when the D-unit is mentioned, people respond to it like, "Ah, They are very talented group, not just a typical idol group. And We'd like to get recognized internationally.
This year, we''' focus on letting people know who D-unit is and what our songs are.