As K-pop idol D-unit's comeback with "Luv me" is coming around, they seem to do interviews here and there too. So I pleasantly translated a news article. just excited these days. Enjoy!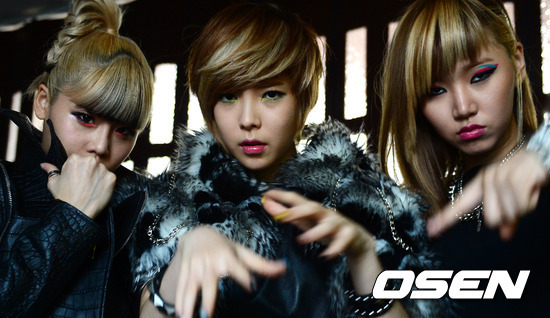 Source
Became stronger. D-unit has finshed a preparation for a sortie with unbelievable power as a girl group.
D-unit is a rookie group
making a debut with "I'm missing you" back in August. Back then, D-unit's leader Ram brought a spotlight as a younger sister of T-ara Boram. However as D-unit's stage went by They got a reputation of 'talented group' as opposed to 'Boram younger
sister's group.'

D-unit's average height is 160cm. But They never wear high-heels on stage. Wearing casual shoes and playing around stage really show their tenacity. Styling themselves with heavy smoky makeups and leather jackets, Their choreography was also very powerful.

Performing a perfect live stage with a tough dance, D-unit gained favor in many people's eyes. That group, D-unit is coming back with a new song
"Luv me"
on this coming 7th.
Zin :
We haven't had a day off after "I'm missing you" album. We have prepared for a new song
"Luv me"
and had some performances(events) as well. We were just as busy as "I'm missing you" period. Especially There's a lot of moves going on in
"Luv me,"
so we had to always practice to make it any better. We reduced our sleep to make live and dance performances perfect.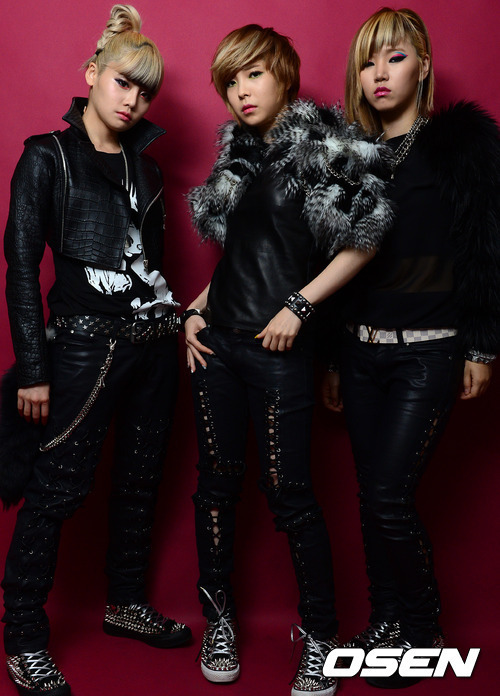 While leader Ram leaded stage as a main vocalist in debut performances, in the
"Luv me"
song,
Ujin got picked as a
main role.
Ujin even gives off her charm as a central role in this MV. Ujin turns into a cute and strong
vampire
in MV.
Ujin :
I became the main role. I feel a little bit burden though, I'll do my best with a responsibility. Ram Unnie who was the main role in the last album, gave me lots of advice.
I was told that I could be a main role this time because a lot of fans gave me favorable comments
after the "I'm missing you" album. Some fans even sent cute threatening messages saying,
'It's not D-unit without Ujin!'
D-unit gave off strong energy in their style and a new song's vibe, From makeup to outfits and hair style, they seemed to have focused a lot of efforts on making D-unit's unique color.

Ram :
We were still strong when we debuted. But I was a little burdensome to think of meeting fans' expectation. However, we have a good styling come out, so we don't think we will let our fans down.
In Ujin's case, she changed into a short cut style. We all added some fundamental colors in our makeup, so overall we put some characteristics.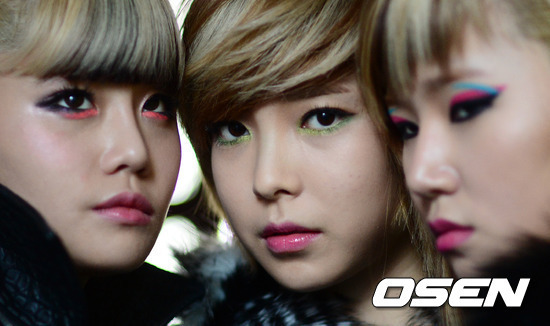 D-unit chose casual shoes again this time, as opposed to high heels. I asked them if they had any different mindset compared to their debut. Smiling shyly, D-unit said,
"We added a little amount of

sexiness

this time."
Ram :
There's no change in our mental attitude. We always brace up our mentality in order not to get distracted. We will maintain it throughout our singing career. I guess that is a good way for both our fans and us.
Song-wise, the difference would be that we became a little sexier?
When performing "I'm missing you," we were only strong, but
this time we have some sexy elements in the choreography and face expressions.
We a phrase "You will get to love me" in a lyrics of a new song, it's a proud message like you can't help but love me after all.
D-unit has 5 days to go before the comeback, they're sweating in a practice room today as always.
D-unit showed their desires.
"We practice more than 10hours a day. We want to set difference versus the current idol groups. We confidently say that we are different in quality, but we'll still take much more efforts as reducing our sleep. Reaching the top with a high quality, the day will come, right? We always want to lively build up our own colors without exhaustion."
More information is on my blog. Check them out!